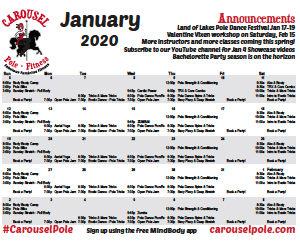 It's hard to believe that one year ago this weekend, I walked into my normal Saturday morning Abs and Booty class to discover that the previous owner was planning to close the doors of my Happy Place for good. Not five minutes earlier did I ever dream that I would have the incredible privilege of owning this wonderful gem of a studio. M needed a little convincing, but he has taken to it quite well–creative beast that he is. I am also very thankful for the wonderful instructors that stuck with us through all the renovations and rebuilding process. I love these ladies with my soul!
We had a wildly successful Student and Instructor Showcase on January 4 and saw some amazing performances. Four of our performers: Emmy, Jesse, Breezy Lee and Tomi are sure to make a splash at LOL Pole Fest January 17-19 in Minneapolis. I can't wait to see them shine.
We close 2019 with a strong vision and lots of SASS and look forward to adding more instructors and classes this spring as well as hosting more events and workshops. Tony the Pony is looking forward to parade season again this year. Stay tuned!
Make 2020 a year of kindness. Of lifting others up and inviting them to rise and become the best versions of themselves. It takes nothing away from us to help others to succeed.
— Lady K —