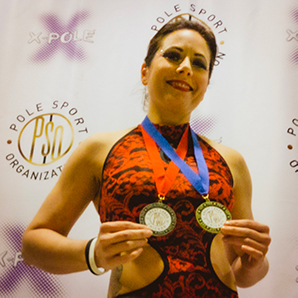 Five travelers from Carousel Pole Fitness just returned from Pole Sport Organization (PSO) Great Lakes regional championships November 21-22 in Chicago. There was some pre-competition drama due to a last-minute venue change as the Vittum Theater suffered water damage from a sprinkler system malfunction. We braved the brutal traffic on the Magnificent Mile to the Millennium Knickerbocker Hotel who offered their Crystal Ballroom to host the competition.  Scores of performers from at least a dozen studios showed us their very best in more than 20 different divisions. It was an atmosphere of support for all competitors from novice to elite levels. The competitors and the audience were a diverse group. One competitor was a grandfather in his 60's.  
Friday night, our own Emmy Young performed an emotional tribute to her grandmother set to Rag'n'Bone Man's "Life in Her Yet" and took first place in the Dramatic Level 3 Senior division.
She was one of only two competitors that performed on both days this weekend. On Saturday afternoon she performed a beautiful dance choreographed to "O Fortuna" from the opera Carmina Burana and won a second-place medal.
Before the competition Emmy said, "I just want to medal. Any medal. And I don't even care if it's by default!"
It was such a fun weekend of camaraderie and encouragement. The group of five from Carousel Pole Fitness enjoyed time together at the event and at an AirBNB apartment in Little Italy. You can be sure that Emmy, Jesse and Breanna have some new inspiration and are energized to prepare for the Land of Lakes Pole Festival in Minneapolis in January of 2020 where at least four competitors from Carousel will take the stage.  More to come about that later.
We are so proud of Emmy and excited for those who plan to perform in January.
Have a happy and safe Thanksgiving.
Lady K