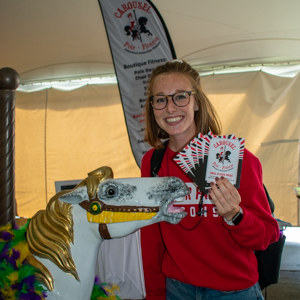 We had a lot of really excited ladies stop by our booth at UWRF the beautiful morning of September 27 to find out about our pole and exercise classes, our workshops and parties. We had scores of entries vying for our prizes, and the following were winners:
Katie S – Private Lesson
Callie G – 5 Class Passes
Jordan W – T-Shirt
Alexis R – T-Shirt
Callie was one of the most excited ladies to visit with us. She and several friends returned for our 1:00 drawing…and Shellie drew her name! We were thrilled to award her the prize on the spot, and she was happy to pose with Tony the Pony.
Instructor Shellie—who probably mentioned her aerial yoga classes—had such a great time meeting students, staff and others at the UW-River Falls City Sampler, that she wants to do it again next year. We hope to see you there, or better yet, in one of our classes!
– Lady K –