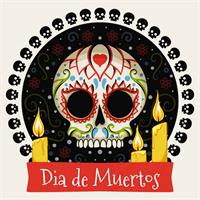 This year Carousel is skipping Halloween and going for something even bigger. We are heading south of the border for the huge celebration of Dia de los Muertos! In case that three-day holiday doesn't sound familiar, check out this brief primer.
Karina (our sexy Latina) has devised a workshop that will truly exhilarate you! Grab your amigas and your hottest heels and join us for this spicy but sweet celebration. A little pole, a little chair, a little floor, and just the right amount of sass. Take the routine home to perform for your honey…or just come and enjoy it for yourself.
The doors open at 6:00 pm on Friday, November 1, to give you plenty of time to hang out…or…to work on your costumes and makeup. (Costumes are encouraged but not required.) The party, I mean, the workshop cranks up at 7:00. Join a horde of colorful characters for dancing, refreshments and revelry.
As always, to reserve your place at this party, sign up on MindBody. All this for only $25! (And only $10 for members!)
Please join us for Dia de Muertos! Who knew that celebrating the dead could be so lively?
Con amor,
Lady K